Asia Communique — Week 20
India and China initiate disengagement — Biden spoke to Xi — China displays DF-26 — BBC banned in China
I wish you all a Happy Losar and a Happy Lunar New Year!
My you power through the year of Iron Ox!
I recently wrote an article for 9DashLine: CHINA WON'T SHAPE THE INDO-PACIFIC IN THE POST-COVID WORLD
India and China disengage at Pangong Tso
In a surprising turn of events, the Chinese military of defence announced that they would be pulling back the troops and armour deployed at the South and North bank of Pangong Tso Lake.
"The Chinese and Indian frontline troops at the southern and northern bank of the Pangong Tso Lake start synchronised and organised disengagement from February 10, said Senior Colonel Wu Qian, spokesperson for the Chinese Ministry of National Defense, in a written statement on Wednesday"
The statement said that the disengagement was initiated based on the two sides' agreement at the 9th round of the China-India Corps Commander Level Meeting.
Read the original statement by here.
"to ensure disengagement in friction points along the Line of Actual Control (LAC), it was our view that troops of both sides, who are now in close proximity, should vacate the forward deployments made in 2020 and return to the permanent and accepted bases." Defence Minister Rajnath Singh told Rajya Sabha.
Full text of Minister Rajnath Singh's statement in the Lok Sabha about the situation in Eastern Ladakh.
The timing of the disengagement around the Lunar New Year suggests that PLA may have wanted little public attention on this process. People across China are busy with the new year celebrations, and social media trends are primarily focused on the festivities.
"China long realised it overstretched in May/June, but now amid "profound changes unseen in a century" and long-term competition w/ US, the cost of poor relations w India and/or risk of major escalation is much greater," said Dr Taylor Fravel in a tweet while speculating about China's decision to pull back troops.
But we shouldn't take our eyes off this crisis so soon. India's tanks are less than 20 Km away from the site of the face-off. China continues to maintain a presence nearby in the Spangur Tso area. We don't know exactly where the tanks pulled back by China will be located.
Here is an approximate location of where China's tanks might be stationed for now:
We know from The Tribune's Ajay Banerjee's reporting that India's tanks will be stationed that Chushul. Until April 2020, the tanks were at Chushul before the standoff started.
"Even as a debate is raging about the implications of Indian Army tanks vacating the strategic heights south of the Pangong Tso in eastern Ladakh, the ground reality is that these tanks would be located at their home base, less than 20 km from the site being vacated now" reported The Tribune.
"Sources said these are initial steps that are being taken, and underlined that no soldier is being pulled back from the heights on the southern banks as of now" reported The Print.
"Government sources said the disengagement process, which began Wednesday, was not sudden but had actually been under discussion since September — the same month that the Indian and Chinese foreign and defence ministers met in Russia. Since then, the sources added, there had been several rounds of discussion during which both India and China eased their stands" reported The Print.
A trend based on disengagement of the troops briefly trended on Baidu at number 5. In the past, events such as the story of PLA soldier who was discovered on the Indian side have been reported more prominently by the Chines state media than the story about disengagement.
The hashtag "Chinese and Indian armed forces began to synchronise their disengagement" was viewed by 18.13 million viewers and received 1616 comments on Weibo.
Some Weibo users even asked, "what did we get in the end?". Another user said that PLA should continue to patrol until Finger 4. A different Weibo user commented that the outcome of this disengagement was unclear.
India's main opposition party Congress has assured the ruling government of losing Indian territory to China.
Reading India-China disengagement in Ladakh: Retd Lt Gen Panag & Lt Gen Hooda — The Print.
CGTN published an editorial by a Chinese studies expert named Keith Lamb with the headline: "Disengagement on Sino-Indian border is a step in the right direction". The article was republished by the English version of PLA's website.
How India stood its ground and forced China to end Pangong Tso aggression — The Print
Amid all this discussion about disengagement, Russia's TASS news agency published a story claiming that "45 Chinese servicemen" died during the Galwan valley clash.
Here are some interesting open-source observations this week:
A commentary by Sina Military about Indian Army interest in purchasing F-15EX.
Biden and Xi speak over phone
President Biden spoke to President Xi over the phone for the first time since assuming the office in the early hours of February 10. The phone is said to have last almost 2 hours.
"President Biden underscored his fundamental concerns about Beijing's coercive and unfair economic practices, the crackdown in Hong Kong, human rights abuses in Xinjiang, and increasingly assertive actions in the region, including toward Taiwan," said a statement issued by the White House.
"Both parties should follow the trend of the world, jointly maintain peace and stability in the Asia-Pacific region, and make historic contributions to promoting world peace and development," Xinhua summarised Xi's remarks in the call with Biden.
"Taiwan, Hong Kong-related issues, and Xinjiang-related issues are China's internal affairs, which are related to China's sovereignty and territorial integrity. The United States should respect China's core interests and act cautiously". Xinhua added.
Global Times editor Hu Xijin said that a two-hour long call was a good sign for the relationship between two countries.
China displays DF-26 on CCTV
On February 10, a CCTV broadcast displayed a test of nuclear-capable Dongfeng-16 (DF-26) missile. Chinese state media reported the story citing the CCTV broadcast and said the test was conducted on the "eve of Spring Festival".
'Dongfeng-26 can be used with the Beidou satellite positioning system to achieve real-time measurement and real-time launch, reducing positioning accuracy Below 0.1 meters. It is called the "carrier killer"' said a military affair commentator in a WeChat blog.
Interestingly, the Global Times in Chinese published a story on January 27 — which was also reproduced by Xinhua — based on SCMP's reporting about the deployment of DF-26 in the Eastern and Western sector. The SCMP story was based on a report by the Federation of American Scientist. But the SCMP story went ahead and claimed that the missile deployment would put India and US naval base in Japan within missile's radius.
Xinhua's decision to highlight this story suggests that the deployment has been well underway since early January — confirmed by satellite imagery.
Hans Kristensen, an expert on nuclear security, was able to geolocate the site of this test:
Chinese TV showed nuclear-capable DF-26 launcher exercise but did not identify location.
tv.cctv.com/2021/02/11/VID…
I gelocated it to the PLARF training area near Jilantai in Inner Mongolia: 39.8198, 105.6169. Our Nuclear Notebook on Chinese arsenal:
tandfonline.com/doi/pdf/10.108…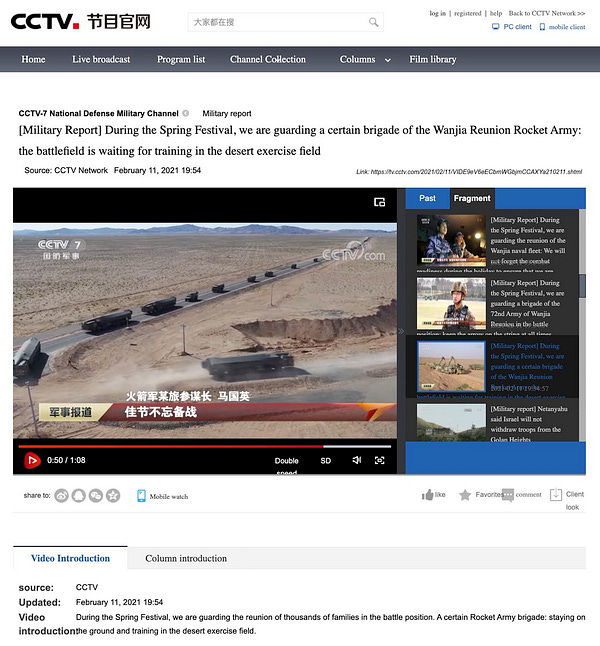 Losar and Lunar New Year
Xi Jinping gave a speech on the occasion of the Spring Festival.
Here are some of the highlights of Xi's address:
"To develop the concept, build a new development pattern, take the promotion of high-quality development as the theme, deepen the supply-side structural reform as the mainline, take reform and innovation as the fundamental driving force, and meet the people's growing needs for a better life as the fundamental goal."
"Xi Jinping emphasised that cattle are symbols of diligence, dedication, progress, and strength in Chinese culture. People compare serving the people and selfless dedication to a willing Ox, innovation and development, overcoming difficulties through hard work (苦奋斗), and hard work is likened to an old scalper (老黄牛—honest person)"
As in Xinjiang, China is tightening its grip in Tibet — The Economist
BBC banned in China — again
Chinese National Radio and Television Administration on February 11 said that BBC World News would be banned from China for "infringing on principles of truthfulness and impartiality". The ban came after UK's Ofcom after the regulatory body discovered that Star China Media Limited wrongfully holds CGTN's "licence".
BBC was never really available across China. I have personally watched the BBC in some hotels in Shanghai but didn't see the channel elsewhere. The BBC broadcasts were also censored for "unacceptable content" at times with a blank screen.
"To prop up their presumptions, they tend to give interviewees misleading questions, twist answers and apply special video-editing or shooting techniques. None of those moves are qualified for producing facts-based news products in accordance with real journalistic standards," said a commentary about the ban on BBC.
On Saturday, China's embassy in the UK said the ban on BBC was "legal".
A hashtag "BBC provokes China with racism" trended on Weibo. The BBC ban story trended on number two on Baidu.
The implication of the Ofcom's decision to revoke CGTN's license was that the Chinese state broadcaster would not be available in Europe because of a collective agreement by the Council of Europe — including the UK.
"The deal was signed under the Council of Europe, of which the UK is still a member — CGTN's licensing troubles have no connection to Brexit" reported DW.
BBC World News is ousted! Why? — CGTN
Don't Miss Out
"Chinese authorities refused to provide World Health Organization investigators with raw, personalised data on early Covid-19 cases that could help them determine how and when the coronavirus first began to spread in China, according to WHO investigators who described heated exchanges over the lack of detail" according to WSJ.
"China's exploitation of products made by Supermicro, as the U.S. company is known, has been under federal scrutiny for much of the past decade, according to 14 former law enforcement and intelligence officials familiar with the matter. That included an FBI counterintelligence investigation that began around 2012, when agents started monitoring the communications of a small group of Supermicro workers, using warrants obtained under the Foreign Intelligence Surveillance Act, or FISA, according to five of the officials" reported Bloomberg.
Read the full story by Bloomberg.
"The Chinese telecoms giant Huawei is taking the bank HSBC to court in the UK as part of its attempt to prevent the extradition of its chief financial officer from Canada to the US. Meng Wanzhou was arrested in Canada on a US request over claims she misled HSBC in a 2013 meeting. Huawei now hopes to gain access to HSBC documents that could help it undermine the US case for her extradition. The bank told the BBC the application for disclosure was "without merit"' reported the BBC News.
"In the Spring of 2020, a scandal involving a top Alibaba Group Holding Ltd. executive enthralled China's netizens. The wife of Jiang Fan, then the youngest partner at the e-commerce giant, had taken to the Twitter-like Weibo to warn another woman, a model and prominent social media influencer, not to "mess" with her husband" reported Bloomberg.
"The Biden administration signaled it would slow down an effort to force TikTok to unwind its U.S. operations, asking a federal judge on Wednesday to pause a lawsuit over former President Donald Trump's ban of the popular video app while the new White House reviews its predecessor's policies" reported Bloomberg.
"ByteDance Ltd. is said to be exploring a sale of the India operations of TikTok to rival unicorn Glance, in an attempt to resuscitate the once-thriving short video sharing app that's been banned indefinitely in the South Asian nation" reported Bloomberg.
Business Street
Mastercard aims to partner with Vietnam's e-wallets using fintech — Nikkei Asian Review
Koo: Indian firms to take over Chinese investments — Financial Express
Off Track Reads
An Outbreak of Unapproved Fun Trashes Chinese Propagandist Hu Xijin — Foreign Policy.
How Clubhouse (briefly) exposed China's fear society — WaPo
Upcoming Watch
According to the Russian ambassador in Iran, China, Russia, and Iran will hold a naval exercise next week.
Yudh Abhyas 20, India-US joint military exercise is currently underway in Rajasthan. The military exercise will conclude on February 20.