Discover more from Asia Communique
A weekly newsletter about the shifting dynamic of power in Asia
Asia Communique - Week 4; Shenzhen over Hong Kong
Xi in Shenzhen - 'Taiwanese spies' - Canada-China mark 50 years - 7th round of talks
Shenzhen over Hong Kong
President Xi Jinping visited Guandong Province from October 12-13 which was widely covered by Chinese state media. Xi visited Chaozhou, Shantou, and some other locations in Guandong.
On October 14, President Xi spoke at an event in Shenzhen to mark the founding of the special economic zone.
以一往无前的奋斗姿态、风雨无阻的精神状态,改革不停顿,开放不止步,在更高起点上推进改革开放
"With an unstoppable attitude of striving and an unimpeded mental attitude, the reforms will not stop, the opening up will not stop, and the reform and opening-up will be promoted with new vigor." Xi Jinping said.
"It is necessary to seize the major historical opportunity in the construction of the Guangdong-Hong Kong-Macao Greater Bay Area, promote the integration of rules and mechanisms of economic operation in the three places, and enhance the level of market integration" Xi added.
The focus on Shenzhen – which is across from Hong Kong – was widely noted by various commentators. A summary of Xi's speech.
New York Time's Chris Buckley said "China's leader, Xi Jinping, speaking in the early trading center of Shenzhen, emphasized domestic innovation amid tensions with the United States"
Hong Chief Executive Carrie Lam delayed her policy address citing the need to visit Beijing for investment opportunities. Lam was present at the Shenzhen event.
Also, read Shannon Tiezzi's article on Xi Jinping's visit.
Forced confessions of 'Taiwanese spies'
On October 11, Chinese state media claimed that the national security agencies caught "Taiwanese spies" under a special investigation called "Xunlei-2020". China's state-owned CCTV news blamed Taiwanese President Tsai Ing-wen for colluding with "external anti-China forces".
CCTV first broadcasted a confession by Lee Meng-chu – a citizen of Taiwan - on October 11 in which he admitted to "filming a military exercise" in Shenzhen.
On October 12, Cheng Yu-chin appeared on CCTV to confess that he had conducted "espionage activities" against the mainland while working at a research institute in Prague.
Taiwan's Mainland Affairs Council blamed Beijing for arbitrarily detaining 48 Taiwanese citizens between 2016-19. In return, Beijing's Taiwan Affairs Office of the State Council has accused the Mainland Affairs Council of fabricating "requests through the existing cross-strait liaison mechanism" for "intelligence theft" and "sabotage activities."
Experts have pointed out that the so-called "espionage cases" have coincided with Taiwan's national day celebrations.
India and China hold 7th round of talks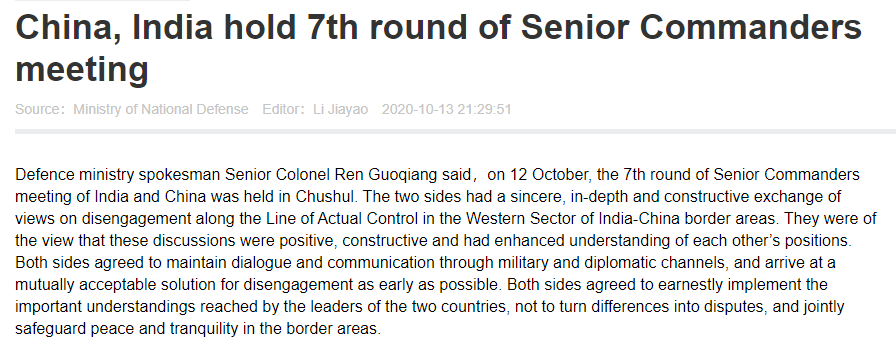 A joint statement issued after the 7th round of talks
On October 13, India and China released a joint statement after the 7th round of talks in Chushul. According to reports in Indian media, there was no breakthrough in the current military stand-off after the talks.
Another report in Indian media suggests that a proposal has been forward to India which is being reviewed by the Indian government's internal think tank, the China Study Group. The contents of this proposal haven't been made public.
The sources in the Indian government aren't revealing any details of the current discussions.
A representative from the Chinese foreign ministry was present at the 7th round of talks.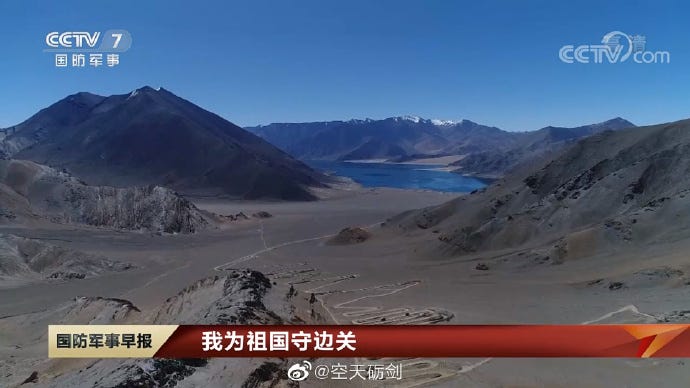 A screenshot of the video released by CCTV
Meanwhile, China's CCTV released a video in which the People's Liberation Army (PLA) troops are shown around the Southern Bank of Pangang Tso lake. One of the confirmed locations in the video is 秋迪检革 (Qiudijangela camp) which is on the Chinese side of the Line of Actual Control (LAC). Some Weibo users have speculated that the video also shows PLA troops on the top of military positions known as "Bump Top" and "Black Top". Qiudijangela camp has featured in state media broadcasts in recent times.
Deputy Secretary of State Stephen E. Biegun was in New Delhi from October 12-14 and met various high-level Indian government officials. Biegun's remarks during the visit.
France has appointed Christophe Penot as its first ambassador to the Indo-Pacific region.
US appoints Special Coordinator of Tibetan Issues
On October 14, the US State Department appointed Assistant Secretary of State Robert A. Destro on a concurrent position as the Special Coordinator of Tibetan Issues. The decision to appoint Destro was to fulfill the requirement laid out in the US Congress' Tibetan Policy Act.
"Special Coordinator Destro will engage Tibetan leaders and international partners and experts to address these issues.  He also will carry forward the Department's engagement with and support for Tibet's global diaspora and their many courageous advocates for the protection of human rights, including the freedom of religion or belief" Secretary of State Michael Pompeo said in a statement.
Chinese foreign ministry spokesperson Zhao Lijian responded to the development:
西藏事务纯属中国内政,不容任何外部势力干涉。美方设立所谓"西藏事务特别协调员"完全出于政治操弄,旨在干涉中国内政、破坏西藏发展稳定。中方对此一贯坚决反对,也从未予以承认。
"Tibet's affairs are China's internal affairs that allow no foreign interference. The US appointment of the so-called "special coordinator for Tibetan issues" is a political manipulation to interfere in China's domestic affairs and undermine Tibet's development and stability. China firmly opposes it and has never acknowledged it."
President of the Tibetan Government-in-Exile Sikyong Lobsang Sangay made a first of its kind visit to the US State Department's Harry S. Truman building in Washington D.C.
In a statement, Qizhala [齐扎拉], the Deputy Secretary of the Tibet Autonomous Region Committee of the Communist Party of China and Chairman of Tibet Autonomous Region, defended the "labor transfer program."
Also read, "American hostility means China can't come clean on its nuclear arsenal, Beijing official says" – SCMP.
Canada to challenge China's 'coercive diplomacy'
On October 13, Canadian Prime Minister Justin Trudeau vowed to challenge China's "coercive diplomacy," during his remarks to media. Canada and China marked 50 years of their diplomatic relations on October 13.
Chinese Foreign Ministry spokesperson Zhao Lijian responded to PM Trudeau's comment in a statement.
A large event was organized by the Canada-China Business Council at the Four Seasons Hotel in Beijing to mark the anniversary. Chinese Vice-Minister of Commerce Wang Shouwen, Canadian Minister of Small Business, Mary Ng, Canadian Ambassador Dominic Barton, Canadian business tycoon Olivier Desmarais, and other prominent personalities spoke at the event. Read The Globe and Mail's full coverage of this event.
"These connections and the extraordinary contributions of Canadians of Chinese origin to Canada will outlive political cycles and continue to bring diversity and depth to our relationship for decades to come." Canada's Foreign Minister François-Philippe Champagne said in a statement.
In a special invitation-only news conference for a few journalists in Canada, the Chinese ambassador to Canada Cong Peiwu said that extending political asylum for Hong Kong dissidents will have repercussions for Canadian citizens in Hong Kong.
"There is no coercive diplomacy on the Chinese side," Ambassador Cong said.
People's Daily Overseas Network reported about an event held in Vancouver. 彭家荣  (Peng Jiarong) Dean of an "Ecological Research Institute of Canada" was the highlight of the story. People's Daily Overseas Network is known for reporting United Front-related activities and events.
Social Talk
On Sina Weibo, the hashtag "Li Jiaqi Live" was viewed over 8.91 billion times and received 9.31 million comments. Li Jiaqi is an influencer and is also known as China's "lipstick king."
This week, the hashtag "Morey Resigns" was viewed by over 230 million Sina Weibo users. Daryl Morey was the general manager of the NBA team Houston Rockets and had started a controversy after supporting the Hong Kong protest movement in 2019.
Business Street
Chinese Fintech Is Hot Regulators Could Still Cool It Down – Wall Street Journal
https://www.wsj.com/articles/chinese-fintech-is-hot-regulators-could-still-cool-it-down-11602853983
Muji copycat Miniso to IPO in New York – SupChina
https://supchina.com/2020/10/09/muji-copycat-miniso-to-ipo-in-new-york/
Blackstone Nears $2 Billion India Property Deal With Prestige -- Bloomberg Quint
https://www.bloombergquint.com/business/blackstone-nears-2-billion-india-property-deal-with-prestige
From Movers and Shakers
Beijing Believes Trump Is Accelerating American Decline by Rush Doshi
https://foreignpolicy.com/2020/10/12/china-trump-accelerating-american-decline/
China Thinks America Is Losing by Julian Gewirtz
https://www.foreignaffairs.com/articles/united-states/2020-10-13/china-thinks-america-losing
Off-Track Reads
Opinion: McCaul's anti-China fable, a fig-leaf for Washington's coronavirus fiasco – Xinhua
http://www.xinhuanet.com/english/2020-10/12/c_139434786.htm
Keep an Eye on Taiwan – The Atlantic
https://www.theatlantic.com/international/archive/2020/10/taiwan-us-china-donald-trump/616657/
US military academics to devote half of coursework to China, says defence chief - SCMP
https://www.scmp.com/news/china/article/3105738/us-military-academics-devote-half-coursework-china-says-defence-chief
Upcoming Watch
Indian Army Vice-Chief Lt Gen SK Saini will visit the US from October 17-20. During the visit, Lt Gen Saini will visit the US Indo-Pacific Command's headquarters in Hawaii. "The visit is expected to enhance the operational and strategic collaboration between the two armies" Indian newspaper Hindustan Times has reported.