Discover more from Asia Communique
A weekly newsletter about the shifting dynamic of power in Asia
Asia Communique - Week 6
Exclusive: App stores in China and Hong Kong leading sources of modified election applications - new domain name - India-US 2+2 Dialogue
Tea Horse Monitor has a new domain name
You can now access the newsletter via this link: www.monitoringasia.com.
Exclusive: App stores in China and Hong Kong leading sources of modified US election mobile applications
China and Hong Kong's application stores are the sources of 32 unauthorized applications developed for the US election, according to a study of 40 million mobile applications by San Francisco-based RISKIQ. China and Hong Kong were also the top sources of malware incidence by region.
Out of the apps analyzed, 16 mobile applications were modified from their original version.
The study found a total of 152 unauthorized US election apps. A total of 90 of these apps were from the US application stores.
These mobile applications were targeted at the US states such as Louisiana, California, Tennessee, North Carolina, Ohio, Georgia, Alabama, New Jersey, Indiana, Connecticut, Montana, Pennsylvania, Rhode Island, South Dakota, Arizona, and Wisconsin.
Other countries that feature in this report are Canada, Panama, Vietnam, the Netherlands, Denmark, Russia, the United Arab Emirates, Portugal, and Spain.
According to US national security officials, Russia remains the most prominent threat to the upcoming elections. The same officials have highlighted that very little evidence has emerged of elections interference by China.
Fifth Plenary Session in Beijing
The Communist Party of China met in Beijing for the fifth plenum in a close-door setting from October 25 – 30, according to state news agency Xinhua. The reports of the meeting by state media give some hints about the next 14th five-year plan.
President Xi Jinping was at the center of the proceedings at the Great Hall of People.
"有习近平同志作为党中央的核心、全党的核心领航掌舵,有全党全国各族人民团结一心、顽强奋斗,我们就一定能够战胜前进道路上出现的各种艰难险阻,一定能够在新时代把中国特色社会主义更加有力地推向前进"
"China's hardships and dangers will be overcome by Comrade Xi Jinping, who is the core of the Party Central Committee and the core of the whole party. He will unite the people of all nationalities and unite in all efforts to overcome all difficulties and obstacles that will arise on the road ahead."
A Communiqué of the Fifth Plenary Session issued via Xinhua said:
"十三五"规划目标任务即将完成,全面建成小康社会胜利在望,中华民族伟大复兴向前迈出了新的一大步,社会主义中国以更加雄伟的身姿屹立于世界东方"
"The goals and tasks of the 13th five-year plan are about to be completed. The victory of building a moderately prosperous society in an all-round way is in sight. The great rejuvenation of the Chinese nation has taken a new big step forward. Socialist China stands in the east of the world with a more majestic posture."
An interesting statement about China's diplomacy during the 13th five-year plan:
"中国特色大国外交积极推进,党和国家各项事业取得新的重大成就"
"Great power diplomacy with Chinese characteristics has been actively promoted, and major new achievements have been made in various undertakings of the party and the state."
"The major risks we face include not only domestic economic, political, ideological, and social risks, and risks from the natural world, but also international economic, political, and military risks," said President Xi Jinping during the Plenary session.
"Everyone agrees that the practice during the "13th Five-Year Plan" period has fully proved my country's political and institutional advantages," said Wang Yang, Chairman of the Chinese People's Political Consultative Conference.
NYT's Chris Buckley and Steve Meyers analyzed the themes discussed during the meeting.
"China's Fifth Plenum: Reading the Initial Tea Leaves" - Center for International and Strategic Studies.
Secretary Pompeo's visit to Asia
US Secretary of State Michael Pompeo wrapped up his trip to Asia with an additional Vietnam trip on October 30.
On October 27, India and the signed the Basic Exchange and Cooperation Agreement on Geospatial Cooperation (BECA), according to the Indian newspaper Hindustan Times. BECA is the fourth foundational pact in the defense cooperation between the two countries. India's NDTV explained the meaning and significance behind the signed agreement.
Secretary Pompeo and Secretary of Defense Mark Esper joined India's Minister of External Affairs Subrahmanyam Jaishankar and Minister of Defense Rajnath Singh during the signing of the agreement in New Delhi.
The Chinese embassy in Sri Lanka released a statement before Secretary Pompeo arrived in Colombo.
"Look, that's quite a contrast to what China seeks. We see from bad deals, violations of sovereignty, and lawlessness on land and sea that the Chinese Communist Party is a predator, and the United States comes differently. We come as a friend and as a partner," Secretary Pompeo said during a press availability in Sri Lanka.
"It is so typical for some U.S. officials to force small- and medium-sized countries to pick sides. I noticed an article written by a Sri Lankan diplomat, saying the government will handle foreign relations according to its Constitution, laws, and people's will and doesn't need any external lecturing on state governance.
China and Sri Lanka are traditionally friendly neighbors. We have been developing bilateral relations based on the Five Principles of Peaceful Coexistence and conducting friendly cooperation based on equal-footed consultation and mutual benefit, which has substantively improved people's well-being in Sri Lanka. These are facts that cannot be shaken by any smear. We will continue working with Sri Lanka to deepen and expand bilateral strategic cooperative partnership, deliver benefits to the two peoples, and contribute to regional peace and stability," Chinese Foreign Ministry Spokesperson Wang Wenbin said.
In Indonesia, Secretary Pompeo urged the Muslim nation to speak up against China's treatment of the Uyghur community, according to the Jakarta Post. South China Morning Post reported citing sources that Indonesia had deported three Uyghur men to China before Secretary Pompeo's visit.
Vietnamese Foreign Minister Minh thanked the US for $2 million in support from the US Agency for International Development (USAID) on October 30. During the visit, Secretary Pompeo met Vietnamese PM Nguyen Xuan Phuc and Minister for Public Security To Lam.
The third annual Indo-Pacific Business Forum was held online this time, from October 28-29, 2020. A summary of current and past initiatives under the Indo-Pacific Business Forum.
In Malé, Secretary Pompeo announced the opening of a new US embassy in the Maldives.
'"The Maldives is in a worse situation economically than Sri Lanka; it has a smaller economy, and a larger portion of its foreign debt is to China than Sri Lanka's is," Nilanthi Samaranayake told Foreign Policy.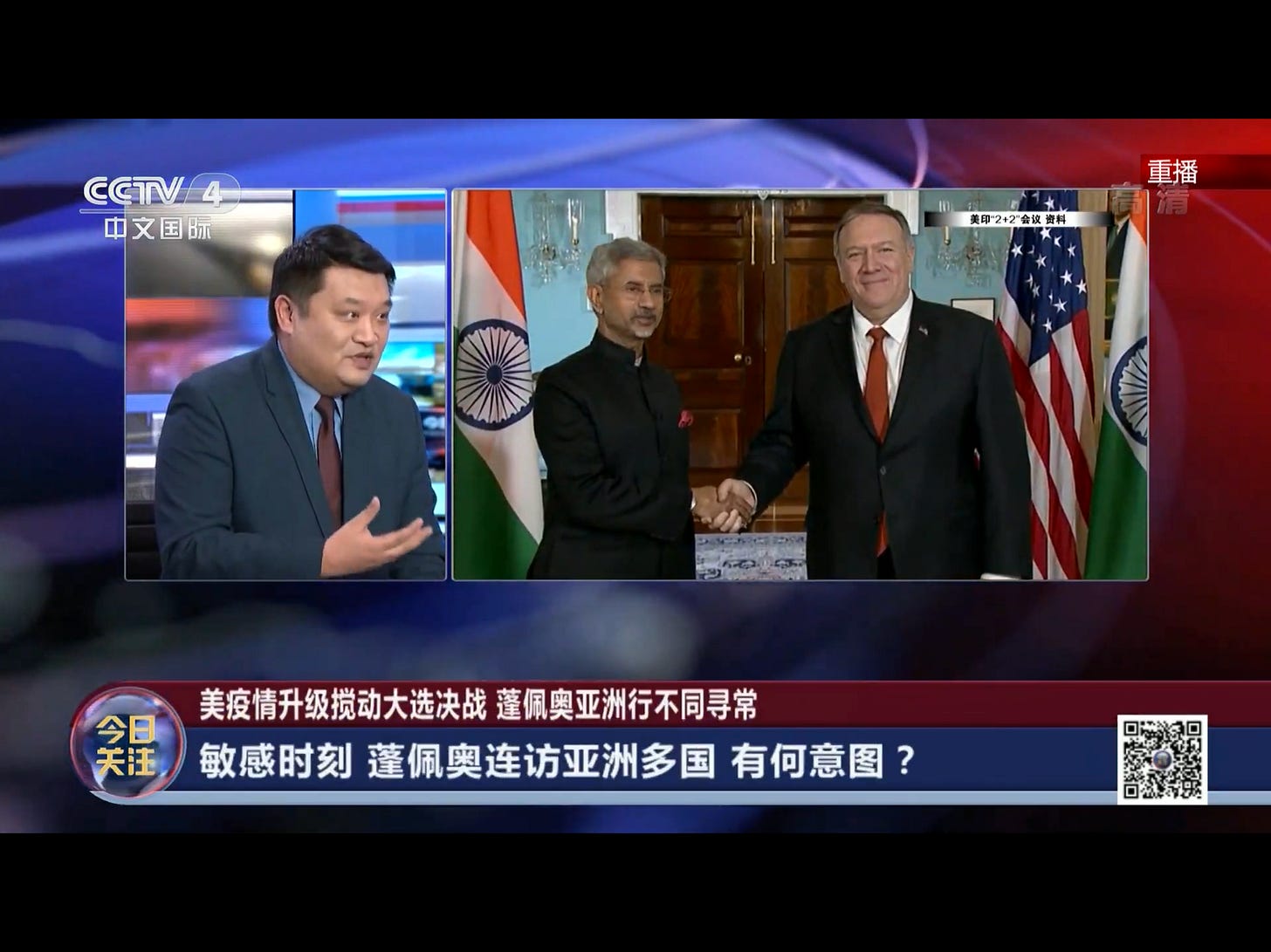 "The visit is still underway. Therefore, we can judge that the part of his itinerary is set around the United States' domestic election and political needs," a panelist on CCTV-4 broadcast about the 2+2 Dialogue commented.
Wall Street Journal published a round-up of the visit.
India-China military stalemate
An unverified report in India's Times Now had claimed that China delayed eight-round of Corp Commander level talks in Eastern Ladakh because of the new BECA agreement signed up Indian and the US.
On Thursday, India's Ministry of External Affairs spokesperson said in a statement, "Let me make it clear that there is no connection between this (India-China talks) and any 'extraneous issue.'"
Chinese Foreign Ministry spokesperson Wang Wenbin responded to a question US's role India-China military stand-off asked by a reporter from Bloomberg:
"Besides, the China-India boundary issue is between China and India. The border situation is generally stable at the moment. Both sides have unimpeded channels for communication and are properly handling matters through consultation and negotiation."
A former Bharatiya Janata Party Member of Parliament from Ladakh Thupstan Chhewang claimed that PLA had further "transgressed into Indian territory." The analysis of satellite imagery didn't back up the claim. Ladakh's local politics may have stoked former MP Thupstan Chhewang's claim after BJP failed to outperform their own record from the previous year's elections.
India's defense journalist Ajai Shukla said China had proposed a "Doklam-type solution" to the current military stand-off.
India's Rashtriya Swayamsevak Sangh (RSS) chief Mohan Bhagwat said, "China was shocked at India's response to its intrusion. India needs to grow bigger in power and scope than China."
For this week, I will recommend reading a Q&A article titled, "After the Border Clash, Will China-India Competition Go Nuclear?" (Carnegie Endowment for International Peace).
I will also recommend Amy Kazmin's article in the Financial Times, "India takes its tussle with China to the high seas."
China sanctions three US defense companies, requests media assets filing
On October 26, China imposed sanctions on Raytheon, Boeing Defense, and Lockheed Martin, foreign ministry spokesperson Zhao Lijian told journalists at the daily briefing.
"To uphold national interests, China decides to take necessary measures to sanction U.S. companies involved in the arms sales to Taiwan including Lockheed Martin, Boeing Defense, Space & Security (BDS) and Raytheon, as well as the U.S. individuals and entities who played an egregious role in the process," Zhao Lijian said.
Lockheed Martin told the Wall Street Journal that its presence in the Chinese market is limited. Boeing Defense and Raytheon said that they remain committed to commercial partnerships with China.
In another development, the Chinese foreign ministry has asked six US-based media organizations with a China operation to file information about their staff and finances.
"American Broadcasting Corporation, The Los Angeles Times, Minnesota Public Radio, Bureau of National Affairs, Newsweek and Feature Story News declare in written form information about their staff, finance, operation and real estate in China within seven calendar days from today," Zhao Lijian said in a statement.
According to Focus Taiwan, a Taiwanese F-5E crashed into Taitung County off the eastern Taiwan coast on Thursday morning.
A minor legal victory for Huawei CFO Meng Wanzhou
Canadian judge Heather Holmes agreed to Huawei's request to pursue their claim that the US had misled Canada on the case.
Huawei CFO's case returned to British Columbia Supreme Court to hear the testimonies of Canadian security officials (RCMP and CBSA) involved in the 2018 detention of Meng Wanzhou.
The officers from Canada Border Services Agency said that Meng's case was flagged for "National Security" concerns during her arrest in 2018.
Social Talk
On Sina Weibo, the hashtag "France will once again seal the country" was viewed by over 500 million users and discussed over 20,000 times as of 15:31 EST on October 30. The hashtag began trending on Weibo after France's President Macron announced another national lockdown on October 28.
Off-Track Reads
Bill Hayton on the Invention of the Chinese Nation – The Diplomat
https://thediplomat.com/2020/10/bill-hayton-on-the-invention-of-the-chinese-nation
As Covid-19 Closes U.S. Classrooms, Families Turn to India for Homework Help – WSJ
https://www.wsj.com/articles/as-covid-19-closes-american-classrooms-families-turn-to-india-for-homework-help-11603972843
U.S. support for Taiwan would remain strong under Biden: expert – Focus Taiwan
https://focustaiwan.tw/politics/202010290017
Taiwan's 'cat warriors' counter attacks from China's 'wolves' - Nikkei Asian Review
https://asia.nikkei.com/Politics/International-relations/Taiwan-s-cat-warriors-counter-attacks-from-China-s-wolves
Business Street
Indian food tech unicorn Zomato makes leadership changes before IPO – Deal Street Asia
https://www.dealstreetasia.com/stories/zomato-leadership-changes-ipo-213568/
Ant IPO Sets Off $3 Trillion Scramble Among Small Investors – WSJ
https://www.wsj.com/articles/ant-ipo-sets-off-3-trillion-scramble-among-small-investors-11604050204
RIL Q2 Results: Profit, Revenue Fall Despite Telecom, Retail Cushion - BloombergQuint
https://www.bloombergquint.com/quarterly-earnings/ril-q2-results-profit-revenue-fall-despite-telecom-retail-cushion
Upcoming Watch
The hearing of Huawei CFO Meng Wanzhou's case continues in the BC Supreme Court over the next week.